Drop-Off Sites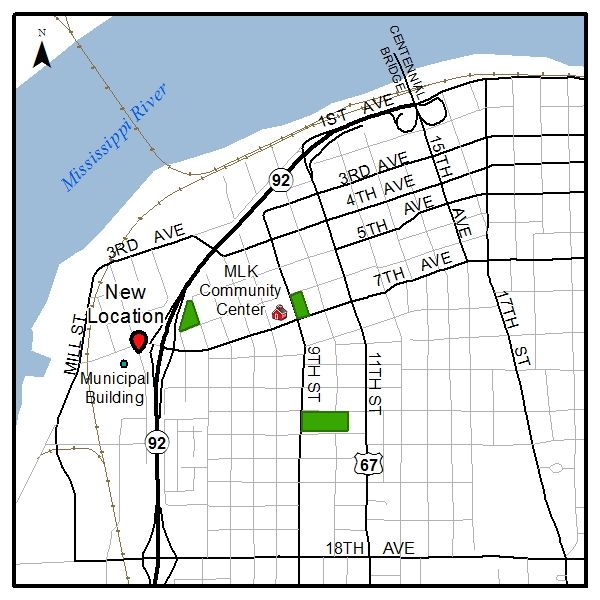 All residents living in Rock Island County can use any one of four regional drop-off recycling sites within Rock Island County until September 30, 2021. The sites are listed below. Recyclable materials will be collected from each site through a two-stream process - paper products and co-mingled containers.
East Moline - 1200 13th Avenue (Engineering & Maintenance Services Facility)
Milan - 451 West 4th Street
Moline - 3635 4th Avenue at Public Works Department
Rock Island - 701 2nd Street - see location map at right (as of 11/22/16)
The communities of East Moline, Milan, Moline and Rock Island host the sites listed above. As part of a cooperative agreement, these cities work together with RICWMA to provide the countywide residential recycling program. Republic Services is contracted to collect and process the recyclable materials. The host communities monitor the recycling containers as they are full. Containers are pulled on schedules or by request of the host community as they fill.
After September 30, 2021, residents within cities should use city-provided curbside recycling, and those living in apartments or other multi-family residences or in the unincorporated areas of Rock Island County who don't have curbside recycling pick-up, can use the Waste Commission of Scott County drop-off recycling at 5650 Carey Avenue, Davenport, IA.
Recycling Guidelines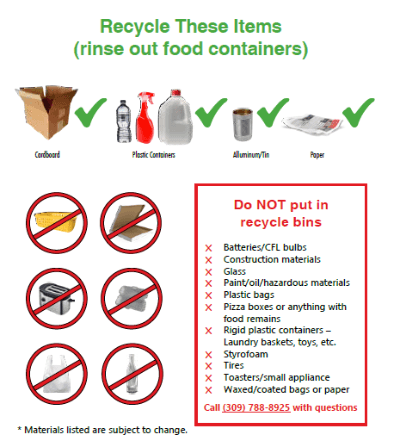 PAPER
NEWSPAPERS - Can be loose or tied with string.
Acceptable: Newspapers, ad supplements, brown paper bags.
Unacceptable: Anything with glue, plastic bags.
MAGAZINES/PHONE BOOKS - Deposit in containers at drop off center.
Acceptable: Any book.
Unacceptable: Waxed or plastic coated paper.
CARDBOARD - Corrugated cardboard only. Flatten, stack.
Acceptable: Boxes with staples; brown paper sacks; chipboard; sacks with string; cereal boxes; pop cartons; gable-top cartons (ex: milk cartons).
Unacceptable: Wax or plastic coated paper; feed/seed sacks; anything with food scraps.
MIXED PAPER - Keep paper dry and clean. (Staples accepted)
Acceptable: Computer/typing/writing/photocopy paper; envelopes; light pastel colors; file folders; unwanted residential mail.
Unacceptable: Carbon & other sensitized paper; blueprint paper; film/photographs; tape/glue; metal objects; spiral binders/fasteners.
Glass is no longer accepted effective October 1, 2009